Table of Contents
Overview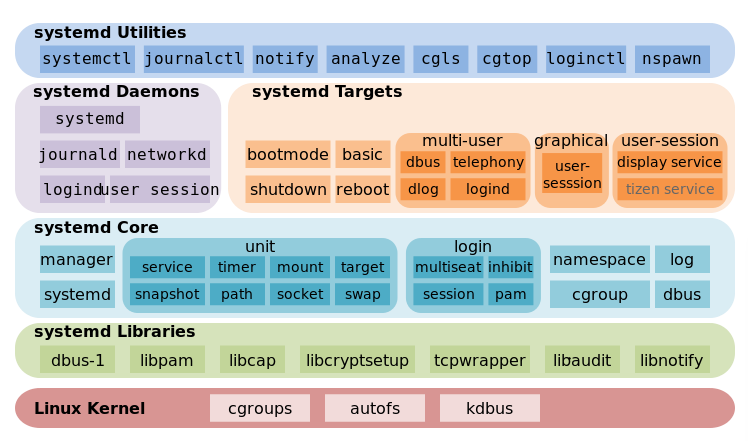 Reference
Units
Syntax
case-sensitive
X-<name> for non-standard sections
1, yes, on, true, 0, no, off, false for booleans
[Section]
Directive1=value
Directive2=value
...

Types
| type of unit | description |
| --- | --- |
| .service | manage a service or application on the server |
| .socket | |
| .device | |
| .mount | |
| .automount | |
| .swap | |
| .target | synchronization points for other units when booting up or changing states |
| .path | |
| .timer | |
| .snapshot | |
| .slice | |
| .scope | |
Target
Target units do not offer any additional functionality on top of the generic functionality provided by units.
They exist merely to group units via dependencies
Paths
| path | description |
| --- | --- |
| /lib/systemd/system | unit files |
| /run/systemd/system | runt-ime unit definitions |
| /etc/systemd/system | overrides (unit files which take precedence) |
Special units
| Target | description |
| --- | --- |
| default.target | Usually, this should be aliased (symlinked) to multi-user.target or graphical.target. |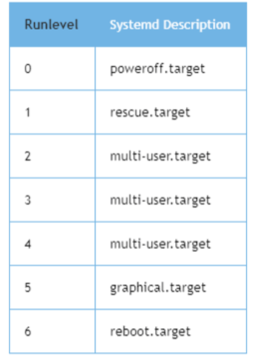 Sections
Unit
The first section found in most unit files
Defines metadata for the unit and configuring the relationship of the unit to other units.
Description
Documentation
Requires
activate dependenceis and fail if they fail
Wants
activate dependencies but don't care whether they fail or not
Requisite
fails if the dependency is not active
Conflicts
deactivate the dependency if it is active
Before
After
Condition…
Assert…
Service
Defines configuration that is only applicable for services
Type
how to manage services. simple is default, forking for services which fork, oneshot for shot-lived process
RemainAfterExit
with oneshot type. active after process exits
PIDFile
BusName
NotifyAccess
ExecStart
if path to command starts with -, systemd considers active even if it's failed
ExecStartPre
ExecStartPost
ExecReload~
ExecStop=
if not given, the process will be killed when stopped
ExecStopPost
RestartSec
Restart
always, on-success, on-failure, on-abnormal, on-abort, on-watchdog

TimeoutSec
When stopping, after waiting n seconds, systemd kills the process
Install
The last section is often
optional
Defines the behavior or a unit if it is enabled or disabled
Enabling a unit marks it to be automatically started at boot.
WantedBy
For sshd.service,
[Unit]
...
[Service]
...
[Install]
WantedBy=multi-user.target

When enabling sshd.service, systemd adds it to multi-user.target by following:
RequiredBy
Alias
Also
DefaultInstance
Commands
systemctl
journalctl
Topics
Is it expected for systemd to start disabled services?
The systemctl enable and systemctl disable operations configure auto-starting of a unit.
So, starting a unit without enabling it is valid.
What is STATE from 'systemctl list-unit-files'?
enabled

it has a symlink in a .wants directory.

disabled

it does not.

static

the service is missing the [Install] section in its init script, so you cannot enable or disable it. Static services are usually dependencies of other services, and are controlled automatically.
How-to
Links