Table of Contents
Advanced R: Environments

tutorial
Basics
Every environment except the empty environment, the ultimate ancestor of all environments, has a parent.
If a name is not found in an environment, then R will look in its parent (and so on).

globalenv()

the environment in which you normally work.

baseenv()

the environment of the base package. Its parent is the empty environment.

emptyenv()

is the ultimate ancestor of all environments
Function environments
There are different kinds of environments related to functions
binding environment

binding a function to a name with <- defines a binding environment

execution environment

calling a function creates an ephemeral execution environment that stores variables created during execution

calling environment

Every execution environment is associated with a calling environment, which tells you where the function was called
The enclosing environment
The environment where the function was created.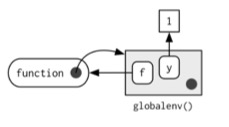 Binding environments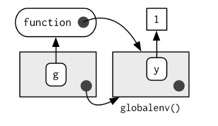 Package Namespaces
This works because every package has two environments associated with it: the package environment and the namespace environment.
package environment

every publicly accessible function, and is placed on the search path.

namespace environment

contains all functions (including internal functions), and its parent environment is a special imports environment that contains bindings to all the functions that the package needs.
Every exported function in a package is bound into the package environment, but enclosed by the namespace environment. This complicated relationship is illustrated by the following diagram:

Execution environments
Every time a function is called, a new environment is created to host execution.
The parent of the execution environment is the enclosing environment of the function.
Once the function has completed, this environment is thrown away.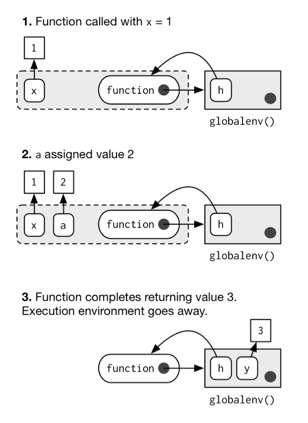 When you create a function inside another function,
The enclosing environment of the child function is the execution environment of the parent
which means the execution environment is no longer ephemeral.
Calling environments
R's regular scoping rules only use the enclosing parent
parent.frame() allows you to access the calling parent.
Biding names to values
Names usually consist of letters, digits, . and _, and can't begin with _.
There are two other special types of binding, delayed and active:
<- creates a variable in the current environment.
<<- modifies an existing variable found by walking up the parent environments. if not found any, creates a variable in globalenv.
A delayed binding creates and stores a promise to evaluate the expression when needed.
We can create delayed bindings with the special assignment operator %<d-%, provided by the pryr package.
Active are not bound to a constant object. Instead, they're re-computed every time they're accessed
To create active binding, use %<a-$.
Explicit environments
Unlike most objects in R, when you modify an environment, it does not make a copy.
Since environments have reference semantics, you'll never accidentally create a copy. This makes it a useful vessel for large objects.
search()

reference
search() lists all parents of the global environment.
new.env(parent = parent.frame())

reference
ls(name, all.names = FALSE)

reference
name

this accepts an environment object

all.names

If FALSE, names which begin with a . are omitted
ls.str(name, all.names = FALSE)

reference
Show str() of all names from ls()
parent.env() vs parent.frame()

discussion
parent.env() returns the enclosing environment
parent.frame() returns the calling environment
with(data, expr, ...)

reference
within(data, expr, ...)

reference
data

data to use for constructing an environment, may be an environment, a list, a data frame, etc.

expr

expression to evaluate
Unlike with(), within() makes a modified copy of data. with() returns the evaluated expr, while within() returns the modified copy.