Table of Contents
Which distribution tool should I use?

discussion
So in conclusion, out of all these options, I would recommend Setuptools, unless your requirements are very basic and you only need Distutils. Setuptools works very well with Virtualenv and Pip, tools that I highly recommend. Virtualenv and Pip could both be considered official, as they're part of PyPA, and Python 3 now ships ensurepip (which helps you install pip on some systems).
Python Packaging User Guide

tutorial
setup.py

reference
setup.py (minimal)

reference
install_requires vs requirements.txt

discussion
install_requires is mostly required when the project is a python library. For just a python application, it seems okay to just have requirements.txt.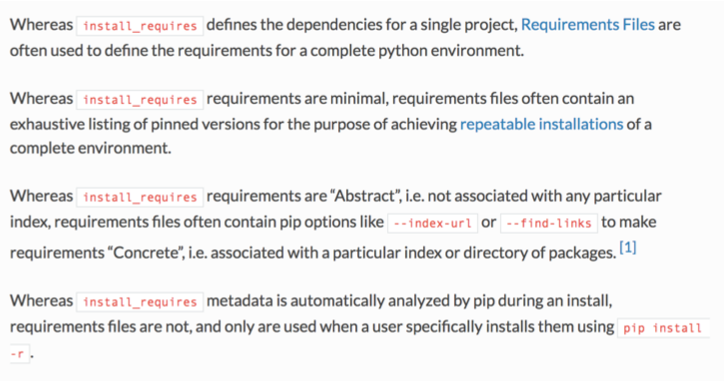 scripts vs console_scripts

discussion
funniest/
    funniest/
        __init__.py
        ...
    setup.py
    bin/
        funniest-joke

funniest/
    funniest/
        __init__.py
        command_line.py
        ...
    setup.py
    ...

Make a python CLI through entry_points

howto
To define a command named foo which executes a function named cli placed in package.__main__.py:
The command created by this specification has additional load time at start because it needs to resolve the python environment. Normally this load is negligible, but if you use this command for a parallel batch scripts or so, it's better off to use python -m package, and the like.