Table of Contents
C#, .Net and Mono

Reference
Accessibility Levels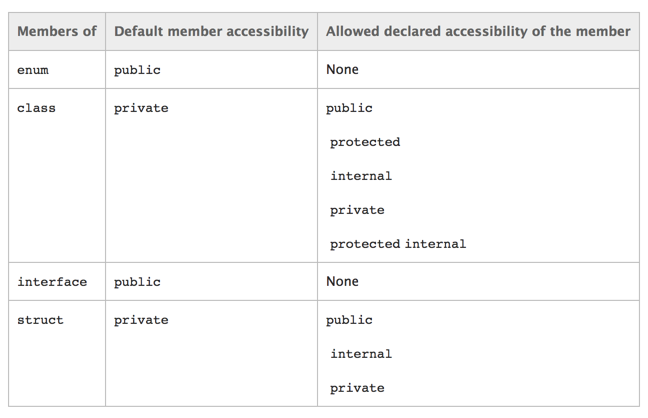 Array
ArrayList
ArrayList simply stores object references.
ArrayList belongs to the days that C# didn't have generics. It's deprecated in favor of List<T>
as
if the conversion isn't possible, as returns null instead of raising an exception.
Attributes
Metadata. Data about your objects/methods/properties.
Attributes are used heavily with reflection.
const
The initializer of a constant local or a constant field must be a constant expression that can be implicitly converted to the target type
A constant expression is an expression that can be fully evaluated at compile time
A const object is always static.
delegate
A delegate is a reference type that can be used to encapsulate a named or an anonymous method.
event
Think of events a bit like properties.
Events are pairs of methods
A public delegate variable
A delegate variable backed by a property
A delegate variable with AddXXXHandler and RemoveXXXHandler methods
foreach
Int32, Int64
Both long and pointer are 64-bits
On all platforms, int is 32-bits and long is 64-bits
You can see this in the names of the underlying types System.Int32 and System.Int64.
Lambda Expressions
List<T>
Method Parameter Keywords
params
To specify a method parameter that takes a variable number of arguments
Can send a comma-separated list of arguments of the type
Can send an array of arguments of the type
Can send no arguments
ref
The ref keyword causes an argument to be passed by reference, not by value
To use a ref parameter, both the method definition and the calling method must explicitly use the ref keyword
out
It is like the ref keyword, except that ref requires that the variable be initialized before it is passed.
Named and Optional Arguments
A default value must be one of the following types of expressions:

a constant expression;
an expression of the form new ValType(), where ValType is a value type, such as an enum or a struct;
an expression of the form default(ValType), where ValType is a value type.
default keyword, which will return null for reference types and zero for numeric value types.
null
Nullable<T>
The syntax T? is shorthand for Nullable<T>, where T is a value type. The two forms are interchangeable.
Properties
set accessor resembles a method whose return type is void. It uses an implicit parameter called value
PropertyInfo
readonly
A const field can only be initialized at the declaration of the field.

A readonly field can be initialized either at the declaration or in a constructor

readonly only works on class level
Also as a consequence of const requiring a literal, it's inherently static while a readonly field can be either static or instance.
Static Class and Static Class Members
C# does not support static local variables
Static members are initialized

before the static member is accessed for the first time
before the static constructor, if there is one, is called
string
string is an alias in C# for System.String. So technically, there is no difference. It's like int vs. System.Int32.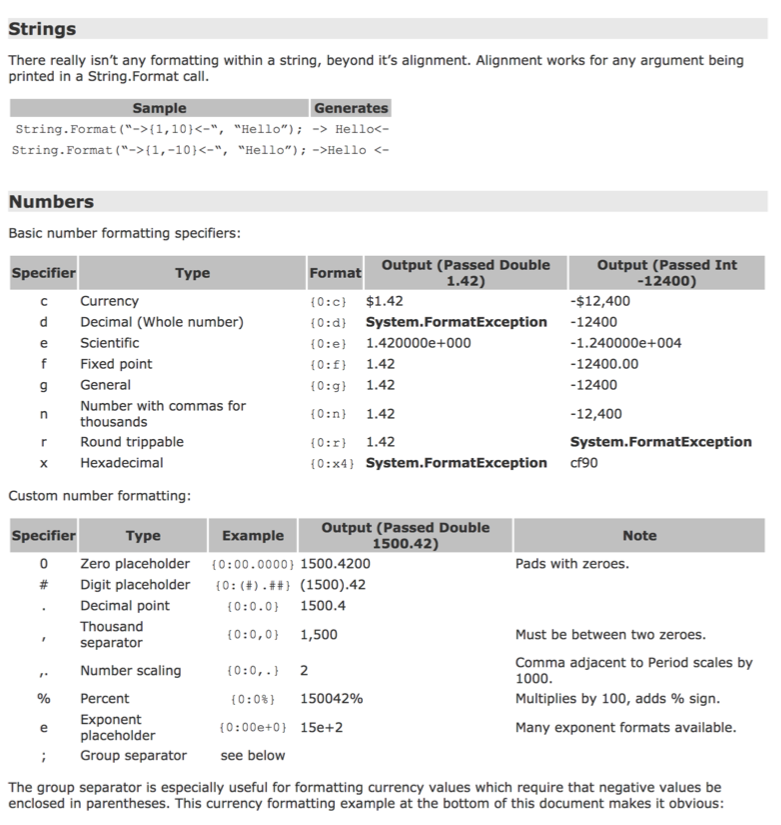 this
To qualify members hidden by similar names
To pass an object as a parameter to other methods
To declare indexers
ToString
typeof
The typeof operator cannot be overloaded.
using
Compiler Options
define
Only conditional compilation and pragmas are supported.
Details
Value Types and Reference Types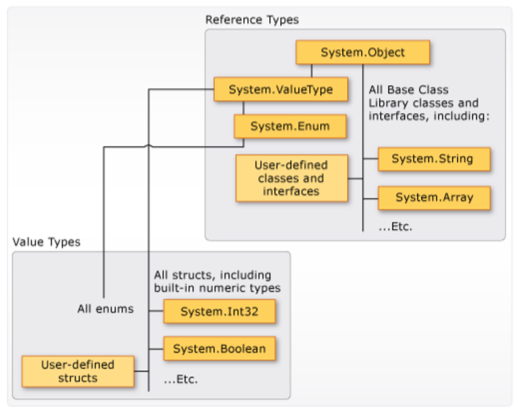 There are two categories of value types: struct and enum.
Assigning one value type variable to another copies the contained value.
Unlike with reference types, you cannot derive a new type from a value type.
However, like reference types, structs can implement interfaces.
A type that is defined as a class, delegate, array, or interface is a reference type.
abstract, virtual, override, sealed
The abstract modifier indicates that the thing being modified has a missing or incomplete implementation.
The virtual keyword is used to modify a method, property, indexer, or event declaration and allow for it to be overridden in a derived class.
By default, methods are non-virtual. You cannot override a non-virtual method.
The override modifier is required to extend or modify the abstract or virtual implementation of an inherited method, property, indexer, or event.
You can use sealed to prevent them from overriding specific virtual methods or properties.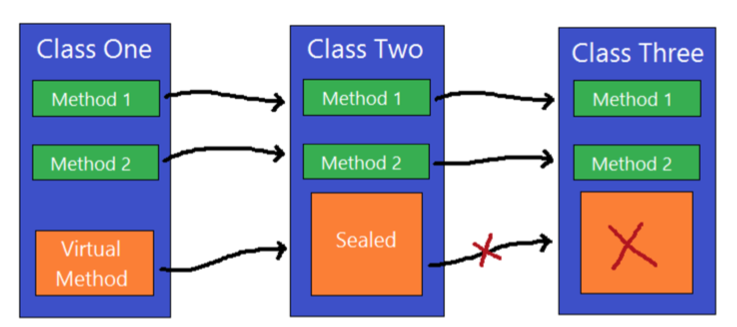 C# Coding Conventions
Creating delegates manually vs using Action/Func delegates
The advantage is clarity. By giving the type an explicit name it is more clear to the reader what it does.
You can specify ref / out parameters unlike the other two generic delegates.
Can have optional parameters.
Use Cases
Can I make local vairalbes constant?
In short, No. Because:
const only for expressions can be evaluated at compile time
readonly only works on class level
Can I handle inputs in FixedUpdate?
General Rule:
Input should be in Update, so that there is no chance of having a frame in which you miss the player input (which could happen if you placed it in FixedUpdate)
Physics calculations should be in FixedUpdate, so that they are consistent and synchronised with the global physics timestep of the game (by default 50 times per second)
Camera movement should be in LateUpdate, so that it reflects the positions of any objects that may have moved in the current frame
Gaussian Random
General Structure of a C# Program
Increment operator: Post vs Pre?
The semantic is not different from C ++
Thanks to the compiler, In short, there will be no difference in the runtime for control variables
Main Method
Get property name inside setter
Use string.Substring(4) to remoe get_ or set_: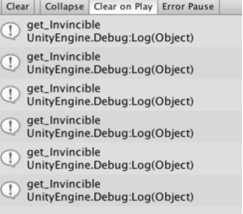 Invoke a method with Reflection
Must specify parameter types for resolving ambiguity.
BindingFlags.Instance and BindingFlags.NonPublic required for a private instance method